I sat on the deck after my run today and had some lunch, a honey crisp apple, pretzels, and sharp cheddar. I am a grazer, I will be hungry again in three hours. I ran a little over three miles this morning with my hubby, a good run. My time was under 10 minutes/mile, getting closer to my pre-injury speed.
As I basked in the late-September sun, I realized there was a terrible racket going on all around me. Hundreds of starlings filled the trees and wires. They were agitated, unsettled. A few made brief forays into the air, twisting and diving, like swallows hawking insects. Most just sat on their perches and contributed to the din. All at once, they were gone. They lifted as if there was some invisible signal I missed and departed en masse.
I didn't think starlings migrated from here (southeastern Pennsylvania). I know I have seen starlings pecking around dejectedly in the frozen muck of my backyard during winter. I just looked it up. Apparently, I live near the dividing line between migratory and non-migratory starlings, 40 degrees North. These particular starlings must have been the migratory variety.
I checked my marigolds, hoping for some late season butterflies, but only saw a few Cabbage Whites. I know that some of the butterflies I see in the summer will migrate. Not only the famous Monarchs, but also Painted Ladies, Buckeyes, and Red Admirals travel to warmer climates for the winter. Some, like the Tiger and Black Swallowtails, survive the winter as pupae inside their chrysalis. Viceroys, who visually mimic Monarchs, overwinter as caterpillars. A very few, like the Mourning Cloak, will spend the winter curled inside a crevice in tree bark as an adult, and emerge on rare warm January afternoons to flit briefly around the forest.
I found this beautiful lady lying in wait near our retaining wall. She (it was almost certainly a female spider since females are typically four times bigger than males of this species) is a Yellow Garden Spider, or Argiope aurantia, an orb weaver. Orb weavers are spiders who make circular webs. She is dangerous only to insects who get caught in her huge web, not to humans.
I am one of the weird humans who loves spiders. I figure anything that eats all of those nasty bugs has to be good. My philosophy regarding spiders is "The enemy of my enemy is my friend." She will lay eggs before the first hard frost this fall and die, but her babies will survive inside their egg sacs in a dormant state until spring when they will emerge and start chomping on the insects invading my garden.
I circled my house, looking at the remaining flowers in my yard, the petunias, the roses, the clematis, and I thought to myself "Remember this". Remember this vibrant color, this fragile beauty, this hauntingly sweet fragrance so that you can recall all of this color and life when everything is brown and gray, when there are no flowers or spiders or even Cabbage Whites to see and marvel over.
Oh, I know there is beauty in every season, but I love the eye candy, the brilliant, the can't-miss-it kind of beauty abundant in summer. I crave pizzazz. As a birder, I thrill to see the dazzling, rare prothonotary warbler more than the drab and common house sparrow. Autumn always leaves me feeling a little bit wistful, as if I want to grab this moment and not let it go.
There is power in letting go. I know this in my head, but not in my bones, in my heart. In my heart, I want to hang on, to not let go. I would not be a good Buddhist, I think. In Buddhism, detachment is seen as a sign of spiritual maturity. But, I believe, it is not me. I cannot be detached when I feel so passionately about so many things. Detachment is a good way to prevent getting a broken heart, but is that really the way I want to live?
I force myself to take a breath. Attachment is good in some instances. It is how we form connections with those we love and how we stand fast to our moral values. It's good to be attached to our family and our principles, isn't it?
Attachment to my family is good as long as I don't become clingy, needy or insecure. I must be aware that I am responsible for my own happiness, not my husband, not my sons, not even my grandchildren (even though they do bring me a lot of joy). When I detach, I can still have healthy, productive, even passionate relationships with those I love, free of unhealthy fears and stifling fixations. It means I accept each person as they truly are, giving unconditional love with no expectations.
Attachment to my values is good as long as I don't become rigid, unable to consider any possible solutions to moral dilemmas other than my own pre-conceived ideas. There is a gray area between moral ambiguity and being a narrow-minded, inflexible bigot. As Pope Francis said "Let us go towards the Gospel, let us go towards Jesus. This … means seeking the truth: morality is an act of love always, love for God and for one's neighbor, it is an act that leaves space for the conversion of the other, it is not quick to condemn." Let me head for that gray space between the two extremes.
So, maybe some detachment would be appropriate, especially since I don't have the power to stop time. Maybe a better response to shortening days, migrating birds and butterflies, and dying spiders would be to find the beauty in today, rather than lament the lost beauty of yesterday. Perhaps I could learn to love the subtle appeal of a brown and gray landscape. It could be time to focus on the gray areas in life.
As the medieval Christian theologian and mystic Meister Eckhard said "He who would be serene and pure needs but one thing, detachment." Or, as Frank Costanza (from the Jerry Seinfeld Show) so memorably put it, "Serenity now! Serenity now!"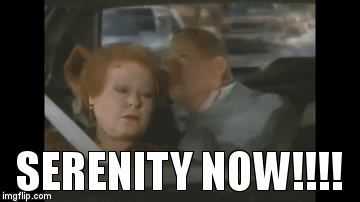 I am linking up with Jessica and Amy at Live Life Well, Running on Happy and Fairytales and Fitness for their Friday 5, Susan B Mead for Dancing With Jesus, Crystal Twaddell for Fresh Market Friday, Spiritual Sundays for Welcome, Embracing the Unexpected for Grace and Truth, The Blended Blog for Friday Loves, Peabea Photography for Sunday Scripture Blessings, Just a Second for Scripture and a Snapshot, Anita Ojeda for Inspire Me Monday, A Jar Full of Marigolds for Selah, and Counting My Blessings for Faith 'n Friends.