I am up to my neck in marathon training. Oh, I have vowed that I would never do another marathon many times, usually immediately following each marathon. I really do enjoy trail races more than road races these days. I love the laid-back atmosphere, the bounty at each aid station, the mud, and the wacky, never-say-die attitude of trail racers. And yet…here I am, training for another road marathon.
I did my requisite long run today. My first really long one. I don't run with music anymore. There are a few reasons for that – I want to be aware of my surroundings and my interior conversation is usually amusing enough to keep me entertained. I was running on a bike path to avoid traffic and thinking about the political situation in our country. Ugh! When that got too depressing, I asked myself a question I care deeply about: What does it mean to be holy?
The answer to the question seems to depend on whether you research the Hebrew word for holy, qadash, or the Greek word, hagios. Qadash means "set apart", as when we set aside land for a cemetery, it is sanctified, consecrated. Hagios refers to something that is pure and faultless. To combine these two definitions, we could say that if something is holy, it is pure and set apart from the commonplace.
Marilynne Robinson, the author of Gilead, says "Love is holy because it is like grace–the worthiness of its object is never really what matters." Yes, love is holy.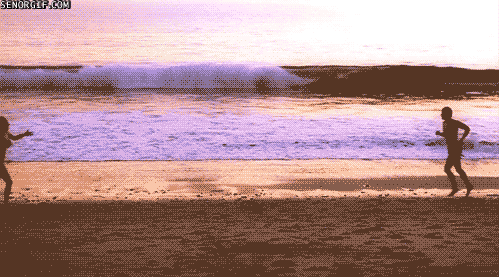 This is not the Hollywood, running-on-the-beach breathless kind of love. This is the kind of love described in 1 Corinthians, patient and kind, not envious, boastful or proud. This is the kind of love where you let your loved one (wife) have the last toasted coconut brownie because it will make you happier to see him/her (her) eat it than to eat it yourself. (Totally fictitious example!)
When I was a young girl, I went on a cruise with my family. I loved to stand at the rail on the deck of the ship and watch the vast sea slide by. The thought occurred to me that if I should fall off the boat, no one would ever be able to find me in the immensity of the ocean. I innocently asked my father what he would do if I should fall overboard. Without hesitation, he responded, "I would jump in after you." I think that was the first time I ever got an inkling of how strong, pure and holy a parent's love is. I was amazed that my father would unquestioningly put himself at such peril for me. (Although, when I pictured the scenario, he did grab a life preserver for each of us as he jumped after me.)
I may question whether I am worthy of such love. What did I ever do to deserve this incredible blessing? But, as Ms. Robinson writes, worthiness is beside the point. I did nothing to deserve grace, either, and yet, for some mysterious, unknowable and happy reason, it is mine. Love and grace are both set apart, holy and pure.
Lailah Gifty Akita, an author from Ghana, writes "Is there any greater miracle than this holy moment?" Lailah is not a theologian. She is a scientist. Her Ph.D. is in Geosciences. Geologists know time; it is their stock in trade. God belongs to the eternal. Humans belong to time and are therefore estranged from God. Holiness is the bridge that links the two.

This improbable, but eminently real, moment is holy. Time is what we are given. Time and love; it is all that we are given and it is more than enough, abundantly so. All of our needs are met, but not necessarily in the way we expect. Christ told his followers "I do not give to you as the world gives."
If time is what we are given, use the gift. Spend your time. Live your life. Drink the wine, kiss the babies, eat the cake, make some whoopee. It would be disrespectful not to. This moment is holy.
Here is the thing about trail running – when I run on trails, I never run alone, so my interior monologue does not flow freely. As my running buddies will tell you, I am a talker. If I need to concentrate on my footing and do not talk, my thoughts tend to be something like "OK, put your left foot beside the rock…now lift your right foot over the root…avoid the puddle or plow right…alright, plow right through…oooh what kind of bird do I hear calling?" It's a stream of consciousness babble. I am not thinking about important things, like holiness. For that alone, marathon training with its attendant long runs is worth it. Maybe I will sign up for another one.
I am linking with Random-osity for Little Things Thursdays link up. I am linking up with Debbie at Dare 2 Hear. Check out the inspirational posts on her Tune in Thursdays. I am linking up with Penny's Passion for Thinking Out Loud Thursday. I am linking up with Jessica and Amy at Live Life Well. If you like this post, you may want to visit to read what other bloggers have to say! Also linking up with Running on Happy and Fairytales and Fitness for their Friday 5.  If you like running and fitness blogs, check them out here! I am linking up with Go Outside Girl for High 5 for Friday. I am linking up with Jamie Sumner for Sunday Thoughts. Visit here for faith-based posts from many other bloggers. I am linking up with blovedboston for Weekending. I am linking up with Shank You Very Much for her Dream Team link up and her Global Blogging link up. I am linking up with Clean East Fast Feets for her Week in Review. Check it out for some more great reads (including some very yummy recipes!) I am linking up with Teaching What Is Good for their Tuesday Link-up. Visit here for inspirational posts from many other bloggers. I am linking up with Char at Trekking Thru. Check out some moving inspirational blogs here.